Story
Meet the Young Saudi Social Entrepreneurs who are Helping Achieve the 2030 Agenda & Saudi Arabia's 2030 Vision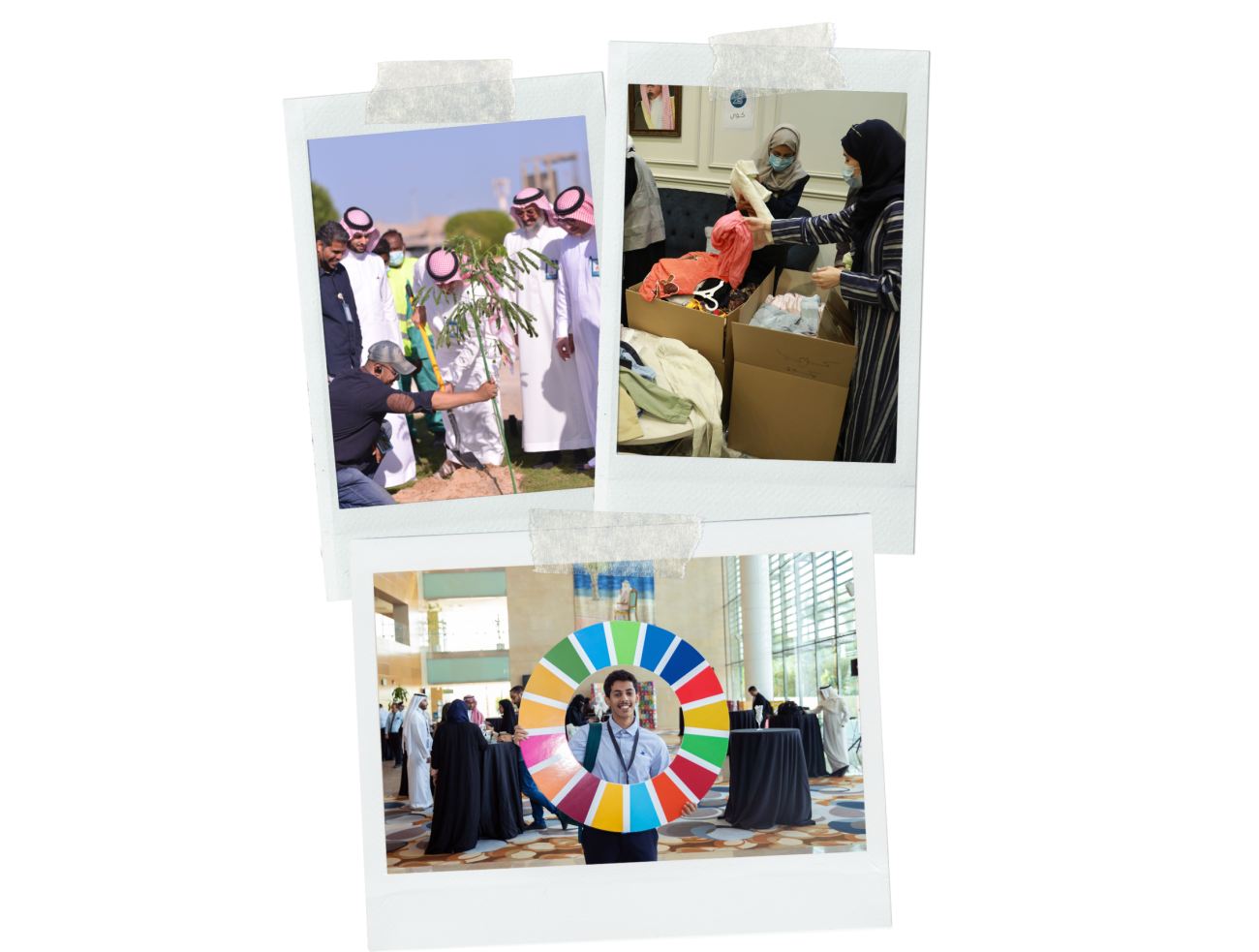 As the impact of climate change intensifies with each passing year, more and more young Saudis are joining the movement for positive change.
With passion for the environment, they directed their entrepreneurial spirit towards change, raising awareness and motivating others to take action!
The UN in Saudi Arabia met with young Saudi Entrepreneurs to learn about their initiatives and how they contribute towards sustainability and climate action. They shared their experiences and encouraged others to take action for a cleaner, cooler and happier world!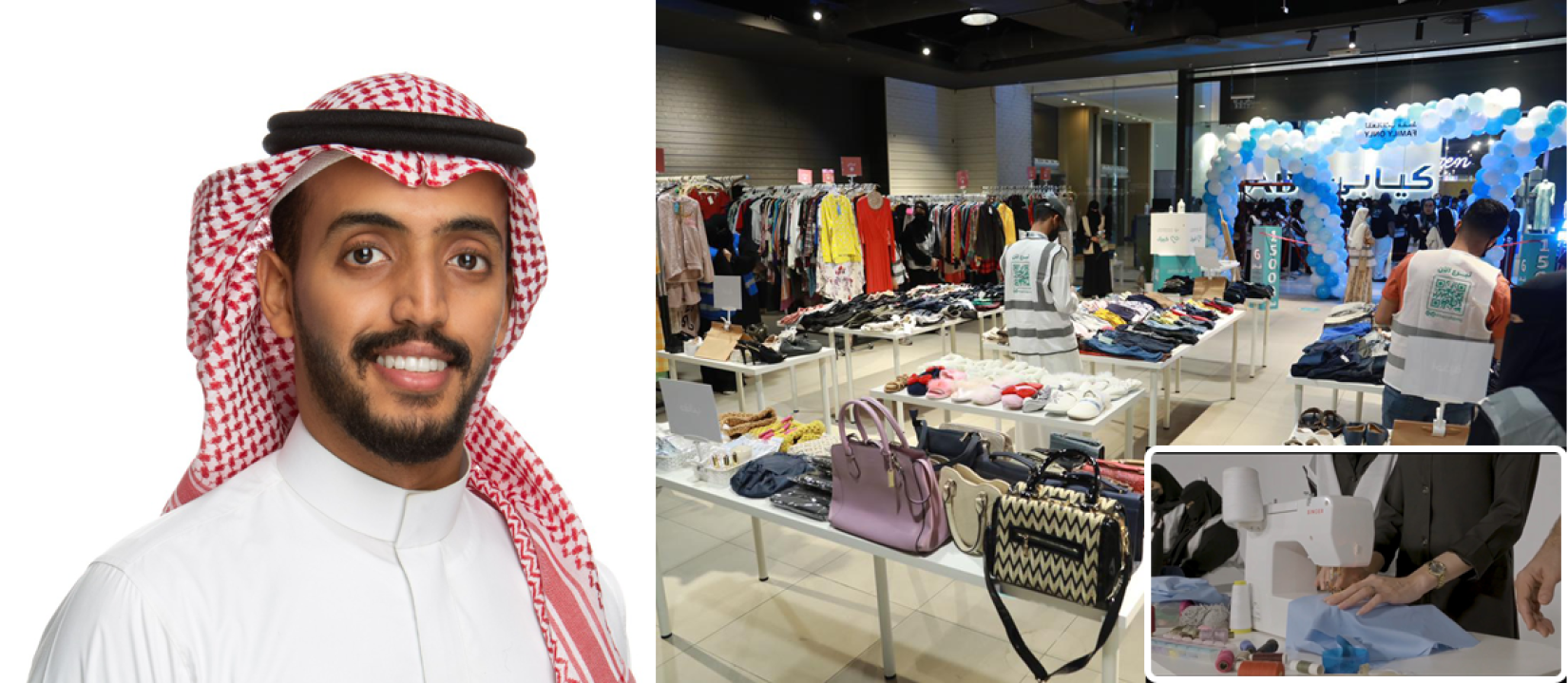 Ali Bakhallagi, Social Entrepreneur & Founder of Tadweem, Jeddah, Saudi Arabia.
Ali is a young Saudi entrepreneur from the city of Jeddah who is passionate about business and the environment. Ali has a diversity of exposure with background in supply chain management, Retail & E-commerce in national & international organization. Through the research, noticed the lack of specialized business models in the Kingdom of Saudi Arabia for the secondhand apparel market, which inspired to start "Tadweem."
He aspires for Tadweem to become a trailblazer in recycling, sustainable fashion & waste management business models in the Kingdom and inspire other environmentally friendly companies in the field of waste management and recycling in the Kingdom and help accelerate the Kingdom's efforts toward environmental sustainability and a green economy. 
Can you tell us about your project, why, and how it started?
"Tadweem" is a social investment company in the arena of recycling. It contributes to supporting the environment through the concept of the circular economy. 
Tadweem notion was brought to life to be an entity of impact as it aims to introduce the sustainable fashion concept to Saudi Arabia and encourage Saudis to start practicing sustainable behavior in their daily life. The main reason for starting Tadweem is that it believes in its role in not only developing the community but also enriching the environment & ecosystem in KSA and the world as a whole.
Tadweem works through the use of surplus clothes; we do that by preparing used clothes, sorting, cleaning, and sterilizing them so they can be used again. Then, we resell them in appropriate platforms and exhibitions and recycle the waste into raw materials for local use. 
In the coming stages, it will expand to broader waste management, sustainable fashion & recycling model to achieve the concept of a circular economy.
The word Tadweem is a hybrid of two Arabic words, "Tadweer" which means recycling, and "Tadweem" which means sustainable.".
What do you hope to achieve in the future with Tadweem, and how can it add to the environmental efforts in Saudi Arabia?
At Tadweem, we aspire to become trailblazers in recycling, sustainable fashion & waste management business models in the Kingdom, inspire other environmentally friendly companies in those domains, and ultimately support achieving environmental sustainability.
How is Tadweem supporting environmental sustainability and achieving global goals? 
Tadweem contributes to the achievement of the following Sustainable Development Goals: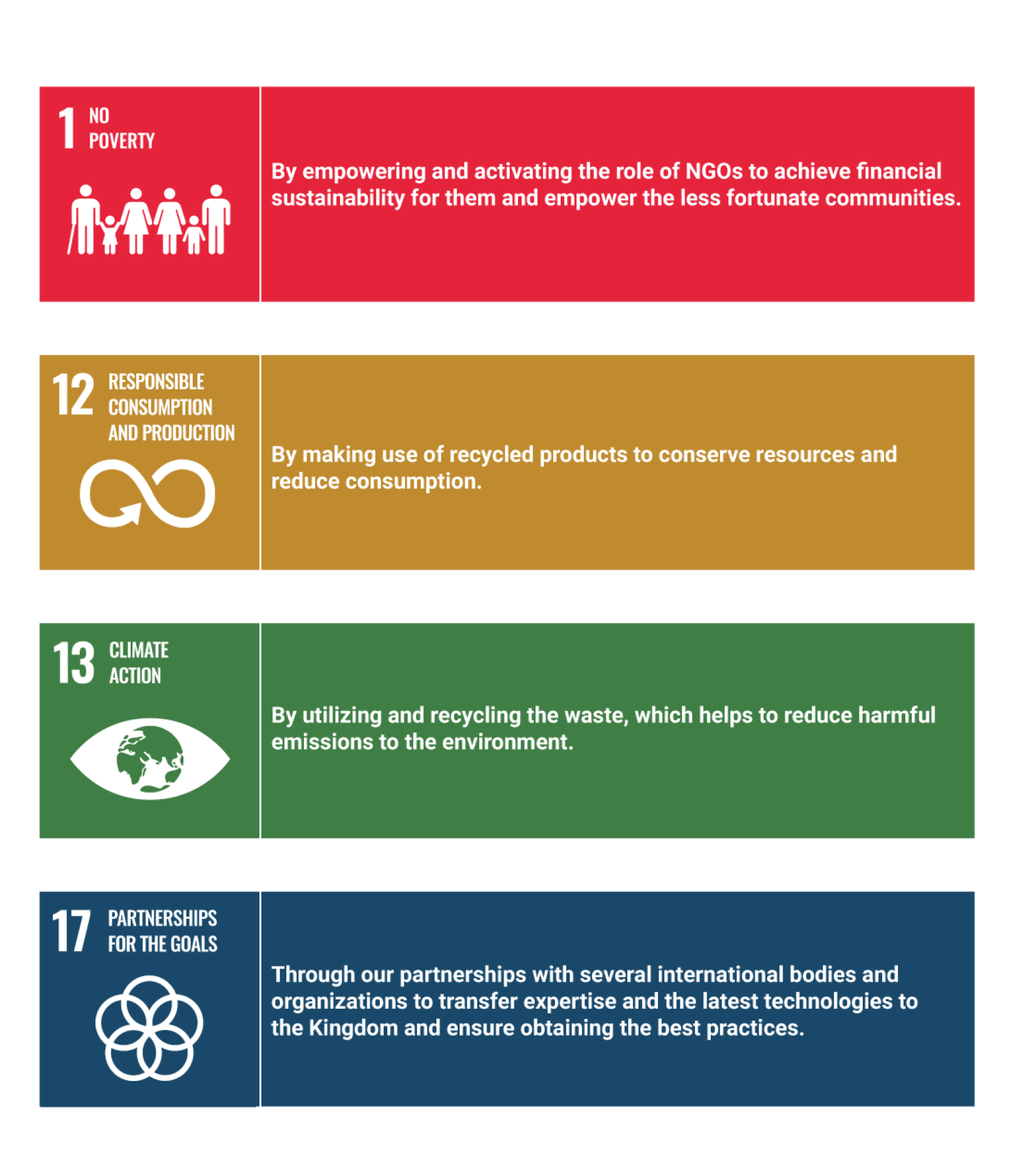 What advice would you give social entrepreneurs to sustain an impactful success?
Dig deep into societal issues and challenges. Have a solution-oriented mindset and be innovative!
I would also say, seize the opportunity of local resources and government support.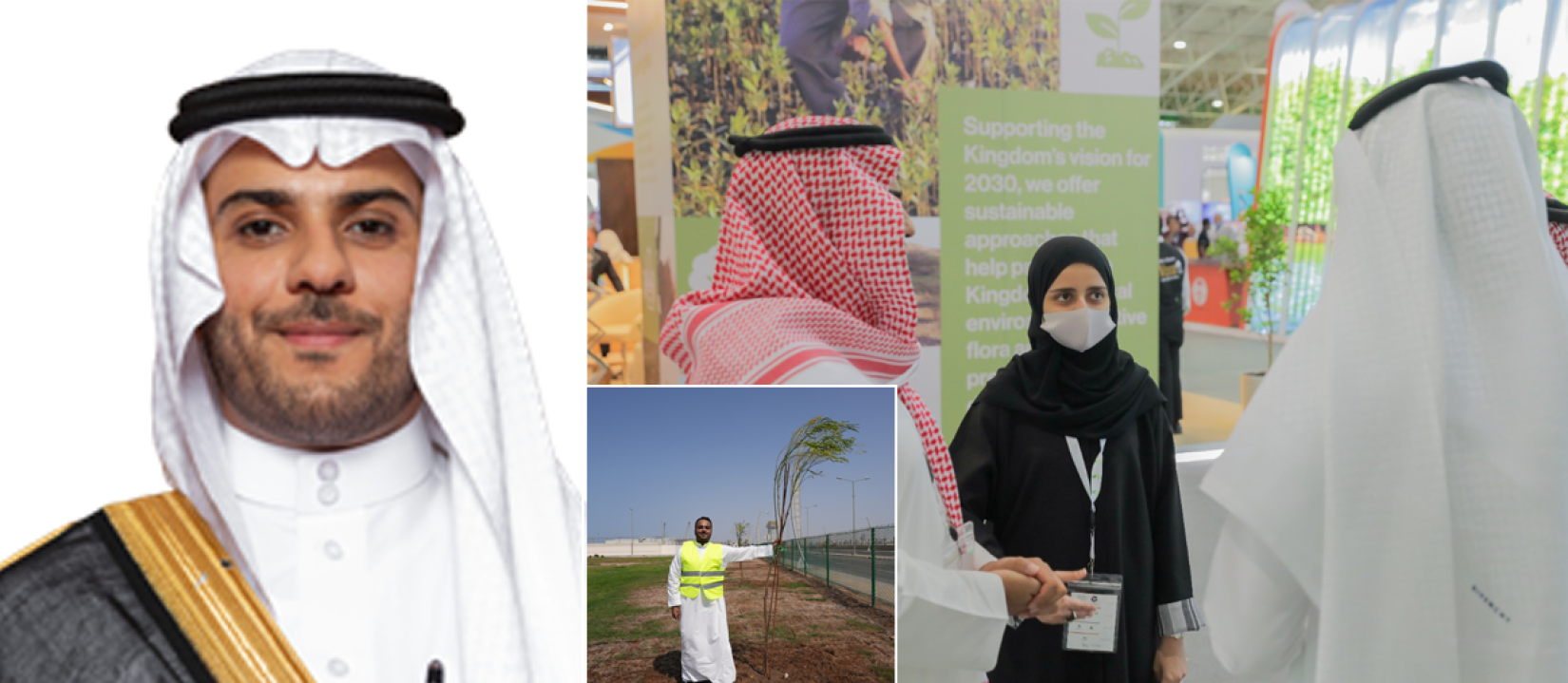 Mohammed Alkhalid, NABATIK Founder, Dhahran, Saudi Arabia
Mohammed comes from a mechanical engineering background. He started up "NABATIK" in 2019 with the aims to make planting trees affordable to both individuals and corporations. Mohammed believes in innovative solutions to global challenges, which is why he started up NABATIK with a focus on utilizing latest technological trends. Mohammed, as a young leader, has been nominated as a finalist in the Young Champion of Earth award by the United Nation's Environment Programme, the highest environmental honor for youth and that is for his contribution to integrating technology with Nature-based Solutions to offset carbon emissions as means of combating climate change.
Can you tell us about your project, why and how did it start?
Nabatik is the first Climate Technology startup in the kingdom. It provides Nature-Based Solutions in Saudi Arabia to combat climate change through forestry and urban tree planting. We are distinguished because we developed a unique business model that resulted in minimizing the cost of planting trees to incentivize companies to plant trees with us and contribute to the Saudi Green Initiative goal of 10 billion trees in Saudi. 
My love for planting trees was planted in me at a young age. When I was seven years old, my father took me to a barren land that was part of a new residential area and handed me a shovel, a potted plant, and a bottle of water. He helped me dig a hole in the dirt and then, carefully, I placed the plant in its new home; after that I covered it and then we took turns watering it. Already, I felt a sense of accomplishment and was filled with hope.. My father said we have to go but I wasn't done admiring my little plant. "Don't worry about it" he said. "The workers here will water it and take care of it." And off we went. It took me some time, but gradually I stopped thinking about it.
Twenty years later I was passing by an area which looked familiar. I parked my car and walked into the same barren land, empty as I remembered..Until I stumbled upon a tree standing by itself.  I looked up and was instantly mesmerized by this magnificent tree that stood tall before me; its branches blooming with lush green leaves, casting a shadow around me, embracing me.
"This is my tree" I said to myself. It was the best feeling in the world.
It was that day when I made a pledge to help plant 1 million trees by 2023 to support the "Saudi Green Initiative" by engaging communities in an innovative way.
How does "NABATIK" contribute to environmental sustainability?
Planting millions of trees in the harsh climate of the Arabian Peninsula is quite a challenge due to the limited water resource, the extreme temperatures, and the nature of the soil. It requires a tremendous effort to plant and maintain such a high number of trees. That being said. we realized that we must rely on the good intentions of people and the power of the latest technologies to overcome that challenge.
At NABATIK, we focus on enabling and emphasizing the importance of social responsibility especially at corporate levels. Capitalizing on the corporate social responsibility trend is a key source of funding for the afforestation initiative. We enable big companies to offset their carbon emission in the region by allowing them to plant trees using our platform. The benefit of using the platform that we have built is they can monitor and keep track of the actions that they have taken as we ensure that each tree is accounted for.
NABATIK contributes to the achievement of the following Sustainable Development Goals: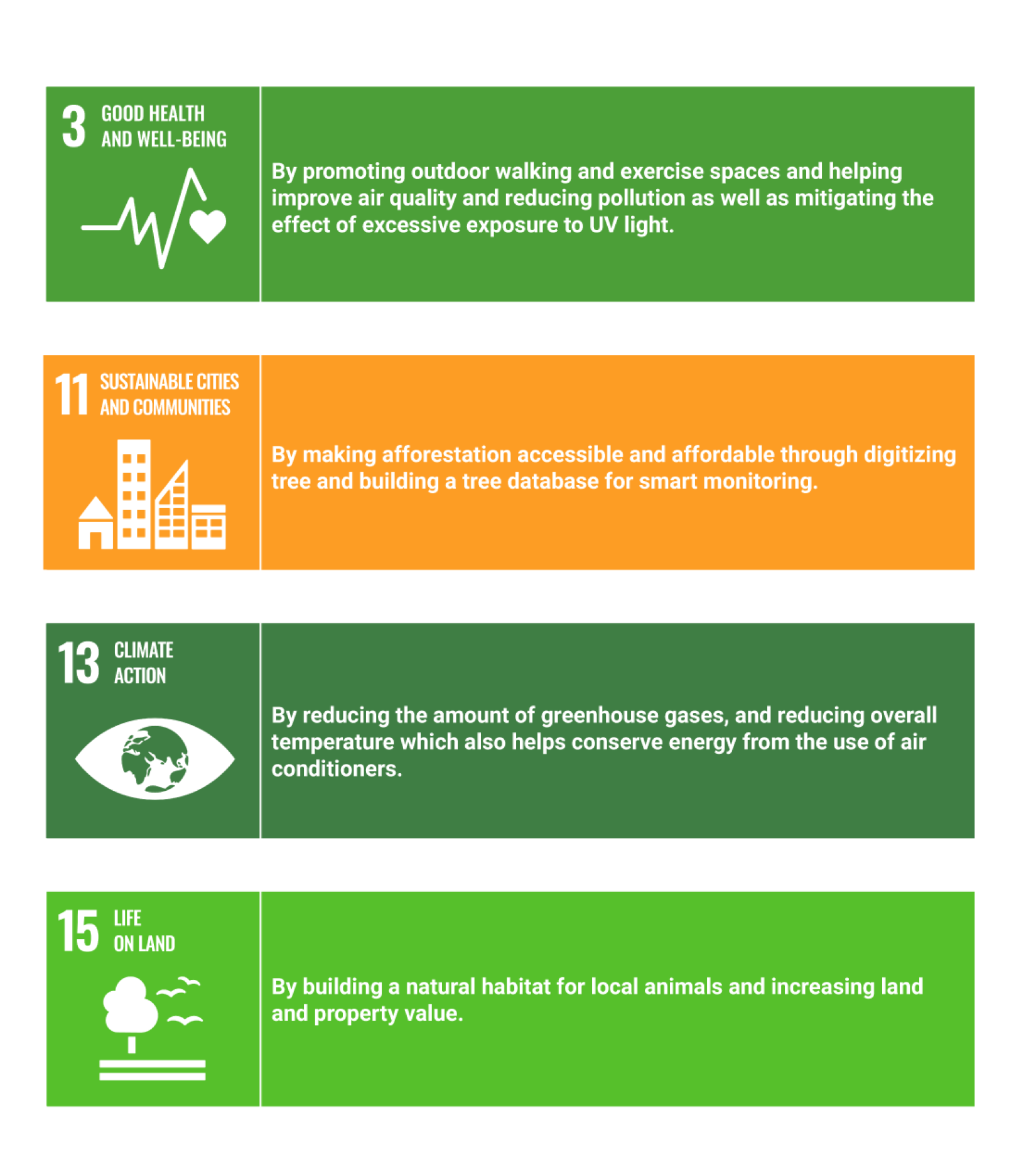 In your opinion, why is social entrepreneurship vital to the Sustainable Development Goals?
We must realize that we should not take our quality of life for granted. Future generations might not have the same privileges that we are enjoying. It is our responsibility, that we leave a better planet for our children and great grandchildren. It starts by prioritizing our environment and society over profit and this is Social Entrepreneurship. That does not mean you should not build a profitable business, but it means that a profitable business that is environmentally positive, socially engaging is a more sustainable business.
What advice would you give social entrepreneurs to sustain an impactful success?
"Do good and good things will come to you". When you look at global challenges "SDGs for example" you will find tons of opportunities. Each challenge is an invitation to you to find a solution. Such solutions will not only change people's life and protect the planet; they also can be a very profitable business.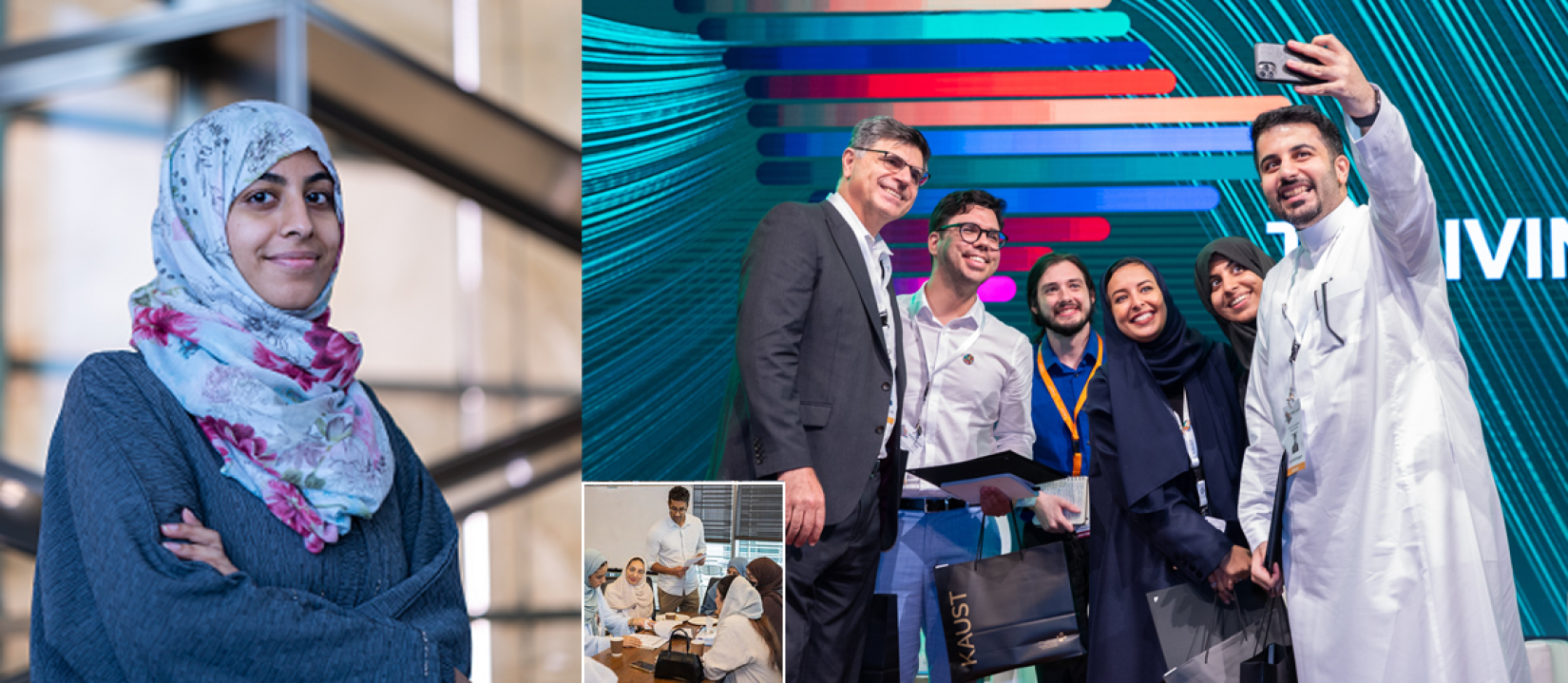 Eman Alhajji, Founder and President of Saudi Youth for Sustainability, Thuwal, Saudi Arabia
Eman is a Ph.D. candidate innovating nanocarbon materials for energy storage at King Abdullah University of Science and Technology (KAUST). She is passionate about sustainability and believes that empowering others to act is the best action toward achieving sustainability.
Can you tell us about your project, why and how did it start?
The Saudi Youth for Sustainability (SYS) is a youth-led national organization that aims to empower and connect young leaders to drive positive changes towards a sustainable future across the Kingdom of Saudi Arabia.
It was Fall 2019 when I had the time to choose my elective courses during my graduate journey at KAUST. I chose Sustainable Engineering taught by Prof. Mani Sarathy and Energy and the Environment taught by Prof. Tad Patzek. These two courses awakened me to the urgent reality of the world. I was filled with both logical and emotional drive to act; my brain and heart felt like on fire. My only hope was the goodness of humanity and all I wanted to do is to empower others to act and collaborate.
When Dr. Ana Margarida, the head of KAUST sustainability, organized 'Let's Talk about Sustainability' in November 2019, I felt it was the door to stop complaining and start embracing change. I was truly fortunate to meet other passionate and self-driven people to establish a platform to drive positive impact. A very diverse group of us bonded on a respectful, transparent, dynamic and open manner. The first sustainability organization was born with me being the founding president.
Despite the pain we experienced throughout the pandemic year of 2020, we showed how our collective efforts make us resilient. We were the most active student organization on campus. We initiated the Sustainability Seminar Series, Campus Tours, Weeks of Awareness, Sustainability Movie Nights, Sustainability Behavioral Challenge, Earth Day Celebration, Global University Climate Forum Project, and many others. We participated in both local and international organizations. It seemed to me that all forces came together to create this epic student organization.
We aspired to expand this youth momentum to other universities. By establishing this society, we aim to connect with other young change-makers from Saudi Arabia to develop novel approaches to tackle persisting critical issues and initiate a network that will unite our forces together. We want to raise our voice to policymakers to meet the younger generation's demand for sustainable development. SYS was born to enable us and all youth in the Kingdom to thrive together for the better.
How does Saudi Youth for Sustainability Social Club, help contribute to environmental sustainability?
We at Saudi Youth for sustainability aspire to unite youth actions towards living in harmony with our mother Earth in a thriving and sustainable way.
Our 4 missions are to:
Create seeds of student sustainability groups in Saudi universities and empower bottom-up changes,
Promote national and international networking of youth change-makers in Saudi Arabia to scale sustainable solutions
Foster knowledge sharing in sustainable development and UN-SDGs
Advance and disseminate best practices of youth sustainability initiatives
SYS contributes to the achievement of the following Sustainable Development Goals: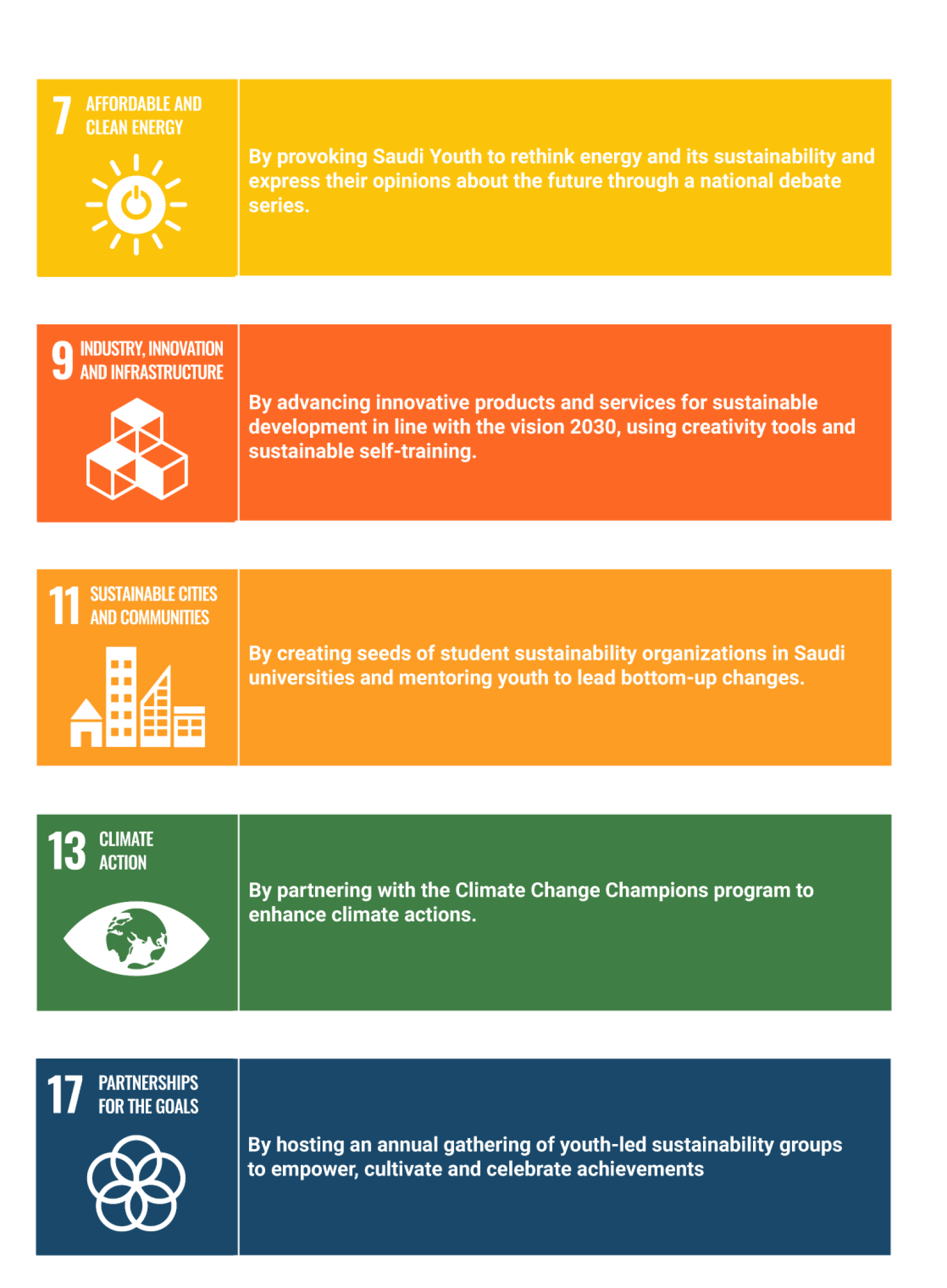 We also hope to support the efforts made in Saudi Arabia on environmental sustainability through various ways:
Build an online hub for engagement and knowledge sharing on sustainability initiatives.
Initiate joint efforts for sustainable solutions on university campuses and nearby communities.
Hold collaborative events and initiatives for sustainability engagement (e.g. sustainability seminar series, upcycling workshops, week of awareness, and tours).
Host an annual gathering of youth-led sustainability groups to empower, cultivate and celebrate achievements.
What are your priorities for the remainder of this year?
Bring a groundbreaking experience during the inaugural annual conference of Saudi Youth for Sustainability, which is going to take place on June 19th and 20th, 2022, at King Abdullah University of Science and Technology (KAUST) in Thuwal, Saudi Arabia. The theme of this year's annual conference is Thriving Together, in which we explore how Saudi youth can be active contributors to vision 2030 and SDGs through advocacy, education, and technology. We will also continue the leader's program and foster more youth clubs across Saudi universities.
What advice would you give social entrepreneurs to sustain an impactful success?
To always ask these three questions: is the project economically viable, socially equitable and environmentally bearable?
UN entities involved in this initiative
RCO
United Nations Resident Coordinator Office