The UN Resident Coordinator Office
In Saudi Arabia, the United Nations is represented by 23 agencies, funds and specialised programmes.
The country team (known by its acronym UNCT) is made up of representatives of these organisations. As head of the country team, the UN Resident Coordinator (RC) guides and supports the work of the UNCT, ensuring effective coordination and cooperation across the mandates of each organisation.
As the main support structure for the activities of the Resident Coordinator and the country team, the Office of the Resident Coordinator (RCO) strengthens the joint activities of the United Nations system in the Kingdom of Saudi Arabia. 
Its purpose is to maximise, in a coordinated manner, the work of the United Nations so that the system can provide a collective, coherent and integrated response to national priorities and needs, within the framework of the Sustainable Development Goals and other international commitments.
The UN Resident Coordinator in Saudi Arabia
Mr. Mohamed El Zarkani of Egypt has more than 16 years of experience in Local Economic Development, labour market reform, research and innovation, and safe and orderly management of human mobility. Before his appointment as UN Resident Coordinator in Saudi Arabia, he has served as the Chief of Mission of the International Organization for Migration (IOM) in the Kingdom of Bahrain, where he was responsible for providing technical assistance to the Government of Bahrain on all issues related to labour market reform, combatting trafficking in persons, migration environment and climate change, immigration and border governance, as well as migration and development. He has also served as the United Nations Resident Coordinator a.i in the Kingdom of Bahrain from November 2020 until April 2022.
He also oversaw IOM's technical cooperation programmes with the Human Rights Commission in the Kingdom of Saudi Arabia and the Ministry of Human Resources and Emiratization in the United Arab Emirates. Prior to his current role, Mohamed worked with IOM in Egypt and Kuwait as the head of community stabilization and human development and labour mobility programmes.
Mohamed has also worked with UNDP in Egypt as the national coordinator of a Local Economic Development Programme. Prior to working in the UN system, he worked with Nahdet El Mahrousa, an Egyptian Non-Governmental Organization focusing on promoting a culture of Research and Development for Egyptian youth. A national of Egypt, Mr. Mohamed El Zarkani has a bachelor's degree in International Relations from Webster University in the Netherlands in 2005. Mohamed is married and has two children.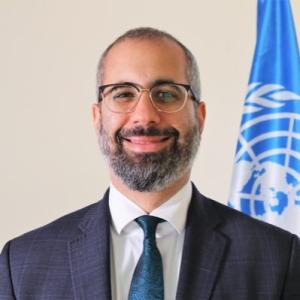 Mohamed El Zarkani
The United Nations Resident Coordinator in the Kingdom of Saudi Arabia